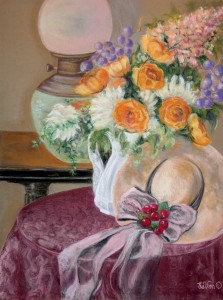 Armed with a passion to capture fond & cherished moments, heartwarming memories & profound visions while suspending them in an image indefinitely, defines the body of my artistic endeavor.
Catch a fleeting moment of the intangible where the mind, heart and soul meet for that small window of uncalculated opportunity and express it through art is my intention.
Appreciating, seeking & acknowledging the serendipity & the humor in life.  Artistically, I choose to focus on the good, the kindness, the beauty in people, places, nature & objects.  I consciously choose to override the unimaginable & ride on the winds of the possible; the nearly impossible.
With all the tragedy and unhappiness in the world, there is much goodness to be highlighted & reckoned with; happiness to spread, kindness to illustrate.  This often fleeting and sometimes momentary "gift" is the purpose and force behind my artistic expression.
As art displays the inner heart & soul of the artist, it carries its unwritten message through medium, color, shape, size and subject matter. However as the artist, the excitement and beauty is truly in the endless interpretations by its varied and individual audience. The appreciation of the hard work endured is the artists reward.
If I can evoke one sentimental, heart stirring thought or recollection from the viewer, then I have exceeded my goal as an artist.
Education:
Monmouth College School of Art (NJ Fine Art Classical Training)
CW Post at LIU (NY; Honors, Criminology)
Adelphi University (NY: Honors, Litigation Legal Assistant)
Golden Gate University School of Law (CA; Trial Litigation Specialist)
Palette & Chisel Fine Art Academy, Chicago, IL
Scottsdale Artist School, Scottsdale, AZ
  Further Artistic Training & Mentoring:
Michael Van Zeyl, Palette & Chisel, Chicago, IL
Helen Oh, Palette & Chisel, Chicago, IL
James Swanson, AIS, OPA, Chicago, IL
Andrew Conklin, Palette & Chisel, Chicago, IL
Larry Paulsen, Palette & Chisel, Chicago, IL
Rose Frantzen, OPA Master, Iowa
Cecile Houel, PSA, IAPS Pastelist, American Portrait Society, Paris, France, IA
David Garrison, PSA, IAPS Master Pastelist, IA; Paris, France
Doug Dawson, PSA Master Pastelist, CO
Marci Oleszkiewicz, Palette & Chisel, OPA, IL
Hilda Kidder, Royal Portraiture Artist, Royal Academy of London; San Francisco, CA
Jerry Power, PSA Master Pastelist, MI
Dawn Emerson, PSA, OR
IAPS (International Association of Pastel Societies) Convention 2011, Albuquerque, New Mexico:
Albert Handell, Elizabeth Mowry,  Richard McKinley, Margaret Dyer,
Duane Wakeman, Alan Flattman. Liz Sullivan, Maggie Price,
Fred Somers, Urania Christy-Tarbet, Jamie Markle
Sally Strand, PSA, WI
Desmond O'Hagan, PSA, CO
Margaret Dyer, PSA, GA
Jessica Fine, CPP, IL
George Shipperly, OPS, IL
Portrait Society of America 2015 Conference, Atlanta, GA
Portrait Society of America 2012 Conference, Philadelphia, PA:  Nelson Shanks,
Daniel Greene, Mary Whyte, Rose Frantzen, Burton Silverman, Raymond E. Kinstler,
David Kassan, Bart Lindstrom, Robert Liberace, Micael Shane Neal,, Irene Hecht, Casey Baugh, John Ennis
William Schneider, Palette & Chisel, Chicago, IL
Elizabeth Mowry, New York, NY
Stephanie Birdsall, Putney, Vt (Putney Painter's)
Tony Crnkovich, Chicago, IL
Gary Wick, Chicago, IL
Professional Affiliations:
National/International:
Palette & Chisel, Chicago IL. (Juried Member)
Portrait Society of America
American Impressionist Society (AIS; FL)
International Association of Pastel Societies (IAPS; NM)
Chicago Pastel Painters (CPP; Chicago, IL)
AJAC  (Juried Member; Chicago, IL)
Pastel Society of the West Coast (PSWC; CA)
Great Lakes Pastel Society (GLPS; Grand Rapids, MI)
Southeastern Pastel Society (SPS; GA)
Chicago Institute of Art
Exhibits & Awards:
Palette & Chisel Visions III Exhibition (Chicago, Illinois, Fall 2014 (Reception October 24th 2014 through November 4, 2014)
Heller Gallery, Highland Park, IL. Heller Nature Center.  One woman show of 40  LeVan nature paintings , 2013
Swedish American Museum, 5211 Clark Street, Chicago IL. 2011 Summer Exhibition: "A Gift of Hope" honoring Raoul Wallenberg.  Three LeVan paintings selected for exhibition.
Great Lakes Pastel Society, "Rendezvous with Serenity" selected for the 2011 Member's Show Exhibition & Artist Demonstration, Three Rivers, MI
THE ART HISTORY CHANNEL: 21st CENTURY ARTISTS.  Cable television network premiering Spring, 2011.  One out of 100 artists selected worldwide for this premier Time/Warner Cable program & web site educating the public with quality weekly Arts programing.  Artist work selected will be viewed by Museums, Collectors, leading scholars & the art media.  Art History Channel, NYC, New York.
The Holmstad Gallery, Batavia, IL October 18-November 29th, 2010 .  One woman exhibition of over 40 new paintings. Lectures with demonstrations & gallery tours.  October 18th~November 29, 2010
W. Chicago Cultural Museum, Banner Competition Winner "Kashmir Kindness" Painting exhibited & large banner of image flown outside museum.  May-September 2009
DuPage Art League Monthly Exhibitions, 2005-2010
Geneva History Center Exhibitions 2008 & 2009
Peck Farm, Geneva, IL One Woman Exhibition "Captured Between Eras" 2008
Aurora University, Dunham Gallery Exhibition 2006   Into The Light: "Best New Artists to Watch"
Publications:
Safe House 2014 Calendar, Ann Arbor, Michigan.  Selected two images for annual calendar: "Alone Not Lonely" & "Princess Marian of Wales"
Safe House 2013 Calendar, Ann Arbor Michigan.  Selected "Fall Symphony" for October & front cover 2013
"The Complete Photo Guide to Creative Painting" Creative Publishing/Prentiss, Three LeVan paintings selected for this International Art Publication, world-wide distribution November, 2010 (Available at Barnes & Nobles & Border's Books).
Mill Creek Messenger Magazine, Cover Illustrations 2008-2009
Credits:
Many thanks to those who generously provided original photographic inspiration for the following works:
Mr. Dave E. Stum, Photo Journalist, Zambia, Africa for  "King David of Africa", "Divine Intervention".
Ms. Gerri Greenman, Fine Artist & Art Teacher, photographic reference for "Peaceful Meditation", "Purple Mountain's Majesty" & "Fall Symphony".
–